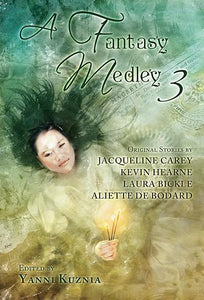 In each of the first two volumes of the acclaimed A Fantasy Medley series—both of which earned starred reviews from Publishers Weekly—editor Yanni Kuznia brought together stories from a quartet of fantasy's most exciting authors. Now Kuznia returns with A Fantasy Medley 3, offering riveting new tales of the fantastic from four more of the field's brightest stars:

In "Goddess at the Crossroads," Kevin Hearne shares a thrillingly memorable episode from the past of his popular Iron Druid Chronicles hero Atticus O'Sullivan, revealing how one night's dark encounter with the cult of Hecate served as inspiration for Shakespeare's witches in the Scottish play.

With "Ashes," Laura Bickle revisits Detroit arson investigator and powerful spirit medium Anya Kalinczyk as she, her five-foot-long salamander familiar Sparky, and Hades' Charon pursue a destructive fire elemental named the Nain Rouge through the city's festival in his dubious honor. 

"The Death of Aiguillon" finds Aliette de Bodard exploring an episode sixty years prior to the start of her latest novel, The House of Shattered Wings, in which the survivors of an ongoing magical conflict in Paris eke out a grim existence, and one woman's wish for a better life is granted at a terrible price.

And in "One Hundred Ablutions," Jacqueline Carey, author of the much-beloved Kushiel's Legacy series, tells the tale of Dala—a young woman chosen by her people's overlords to be an exalted slave among slaves—and of the twining in her life of ritual, rebellion, and redemption.
Hardcover:

 

152 pages
Publisher:

 

Subterranean (December 31, 2015)
ISBN-13:

 

978-1596067677