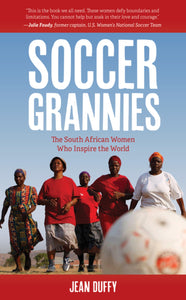 For attendees at the event at the Milford Public Library on November 2 with author, Jean Duffy and Soccer Granny, Rita Wilkie. We will bring any pre-ordered books to the event.
The inspirational story of an amazing group of soccer-playing South African "grannies" and their journey to the U.S. These women play together despite resistance from their communities in order to improve their health and socialize—and for a brief respite from the injustices and struggles they face on a daily basis.

The inspirational story of an amazing group of soccer-playing South African grannies. In rural South Africa, beloved humanitarian "Mama Beka" defied social convention and started a soccer team for the women in her community. The Soccer Grannies, as they came to be known, won over their families and villages who at first rejected the idea of older women playing soccer, and that single team quickly grew into dozens. Soon, the strength, tenacity, and pure joy of the Soccer Grannies had captured the attention of the world. In Soccer Grannies: The South African Women Who Inspire the World, Jean Duffy, a soccer-playing mom herself, recounts how she and her team set to work to bring the Soccer Grannies to the U.S. after hearing their incredible story. Despite many obstacles that stand in their way, the Soccer Grannies finally arrive, and Jean describes the wonderful friendships and cultural exchanges that follow. But Soccer Grannies tells more than just the physical journey of the South African women; it also details the Grannies' personal journeys, sharing poignant insights into the realities of women living in South Africa. Life beyond the pitch has not been easy for the Grannies. They have persevered through apartheid, rampant poverty and unemployment, the loss of children to AIDS, domestic abuse, and more. But with the friendship and support of their fellow Soccer Grannies, these women face life's challenges with dignity, humor, and hope. Their stories show to the world the power of sport and its unique ability to bring people and cultures together.
Hardcover:

 

264 pages
Publisher:

 Rowan & Littlefield

 (May 6, 2023)
ISBN-13:

978-1538170175