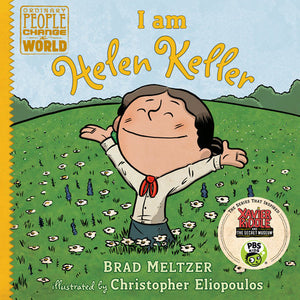 When Helen Keller was very young, a disease made her deaf and blind. Suddenly, she couldn't see or hear at all, and it was hard for her to communicate with anyone. But when she was six years old, she met someone who would change her life forever: her teacher Anne Sullivan. With Miss Sullivan's help, Helen learned how to speak sign language and read Braille. Armed with the ability to express herself, Helen grew up to be come a social activist, leading the fight for people with disabilities and so many other causes.
This friendly, fun biography series inspired the PBS Kids TV show Xavier Riddle and the Secret Museum. One great role model at a time, these books encourage kids to dream big. Included in each book are:

   • A timeline of key events in the hero's history
   • Photos that bring the story more fully to life
   • Comic-book-style illustrations that are irresistibly adorable
   • Childhood moments that influenced the hero
   • Facts that make great conversation-starters
   • A virtue this person embodies: Helen Keller's resourcefulness was key to her success
You'll want to collect each book in this dynamic, informative series!
Age Range: Kindergarten and up
Hardcover:

 

40 pages
Publisher:

Dial Books (September 1, 2015)

ISBN-13:

978-0525428510