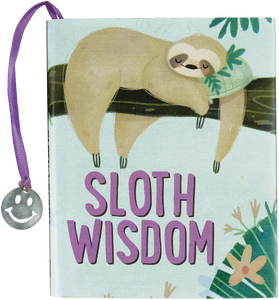 There's a lot to be said for taking life easier, like our sloth friends do.
As Mahatma Gandhi once said, ''There is more to life than increasing its speed.''

In rest, we find replenishment, and sometimes those leaps of brilliance that come only when we're relaxed and open to them.

So, to quote Sylvia Boorstein, ''Don't just do something, sit there.'' And kick back with this little book of quotations from sages of slow, from Shakespeare to Charles M. Schulz, from Aesop to Maya Angelou.

Charming illustrations of sloths throughout.

Keep it in your desk, bag, or backpack for a little lift at work or on the go.

Mini book comes with a 24K gold-plated charm on a ribbon bookmark.

Keep the charm on the ribbon or wear it on your own bracelet or necklace.

Full-color hardcover book with dust jacket.

Mini book measures just 3-1/4'' wide x 4'' high.

80 pages.

Tiny book also makes a delightful gift.