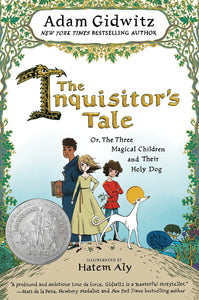 1242. On a dark night, travelers from across France cross paths at an inn and begin to tell stories of three children. Their adventures take them on a chase through France: they are taken captive by knights, sit alongside a king, and save the land from a farting dragon. On the run to escape prejudice and persecution and save precious and holy texts from being burned, their quest drives them forward to a final showdown at Mont Saint-Michel, where all will come to question if these children can perform the miracles of saints. 
  
Join William, an oblate on a mission from his monastery; Jacob, a Jewish boy who has fled his burning village; and Jeanne, a peasant girl who hides her prophetic visions. They are accompanied by Jeanne's loyal greyhound, Gwenforte . . . recently brought back from the dead. Told in multiple voices, in a style reminiscent of The Canterbury Tales, our narrator collects their stories and the saga of these three unlikely allies begins to come together. 

Beloved bestselling author Adam Gidwitz makes his long awaited return with his first new world since his hilarious and critically acclaimed Grimm series. Featuring manuscript illuminations throughout by illustrator Hatem Aly and filled with Adam's trademark style and humor, The Inquisitor's Tale is bold storytelling that's richly researched and adventure-packed.
Paperback:

 

400 pages
Publisher:

 

Puffin Books (March 20, 2018)
ISBN-13:

 

978-0142427378